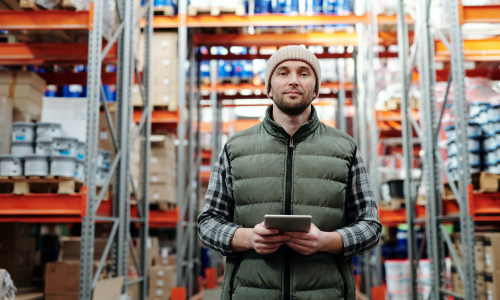 Reduce Spoilage through Improved Inventory Control
Managing back-room inventory at a large grocery chain can be difficult because inventory can get misplaced and not make it to the store shelves before the expiration date.  This cost stores both worker time and money.
The Problem
A major grocery retailer relied on manual organization to manage inventory placement in the store back-room as it was delivered.   Frequently, placement would result in newer inventory being used before older inventory.  This resulted in spoilage as the older inventory would expire while waiting to be sold.
The Goal
Know what inventory was in the backroom and where it is located.
Know the shelf life of backroom items so they can be sold before they expired.
Automatically the process of managing where items were placed when they arrived.
Overall, automate and recognize the inventory stored in the backroom to reduce inventory spoilage.
Solution Summary
Strategic Data System's role in this project was to manage the effort of the technical resources working on the project using a structured agile approach (SAFe) to incrementally delivery the functionality.
Prior to this project, stores across the country would receive perishable inventory that would be manually staged for placement on the shelf.   Store workers were never quite sure what they had available in inventory in the back room.  The rapid flow of delivery and stocking made it  easy for inventory to get lost in the back room, and be near expiration when they were finally moved to the store shelf.    Metrics confirmed that there was excessive waste and it was costing each store a significant amount of money.
As a result of this project, stores now have a better handle on what they have in inventory, when it arrived, estimates of the shelf life, and exactly where it is located.  Workers can now quickly identify and retrieve the oldest product so that it receives shelf-front placement.  This has resulted in a significant decrease in waste, and has allowed the store stockers to know exactly what they have and where it is located.   The bottom line is that the project improved worker efficiency and eliminated waste resulting in a substantial cost savings to each store.
#Retail
#Supply Chain
#Continuous Improvement
#Project Management